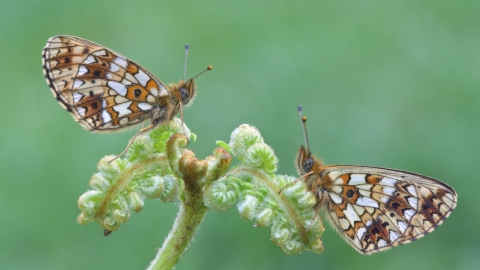 The Malvern's Lost Fritillaries Project
Location:
Online,
In your home
Book
Join Butterfly Conservation's Mel Mason to discover more about the lost fritillary butterflies of the Malverns.
Event details
Date
About the event
The Malverns was described by Professor Jeremy Thomas in 1989 as 'one of the few places where high brown fritillary can be seen in any numbers, sweeping up the hillsides or fluttering around gaps in the bracken. It is heartening to know that the management of the area is specifically designed to encourage this and other fritillaries' [Butterflies of Britain & Ireland, Thomas & Lewington 1991, BWP]. Sadly, before the end of the twentieth century the Malverns had lost high brown fritillary, pearl-bordered fritillary and small pearl-bordered fritillary.
For many years West Midlands Butterfly Conservation has discussed a possible reintroduction of one or more of our lost fritillaries. During the past 20 years local volunteers surveyed their former strongholds for dog-violets, the larval host-plant, while habitat management continued in an ad-hoc fashion linked to occasional sightings in the hope that breeding pairs might return and re-establish a new colony. However, it is clear this cannot happen without a carefully planned reintroduction alongside modified habitat management only recently understood on more successful fritillary sites around the UK, including Herefordshire and Worcestershire. But...
Why did the lost fritillaries become extinct on the Malverns?
Which fritillary reintroduction will succeed on the Malverns?
Is it a habitat problem?
Where are our receptor sites?
Where are our donor sites?
Do we have support from our partner organisations?
Can habitat management be modified this winter rather than wait another year?
The talk will aim to answer these questions about one of the most exciting wildlife projects on the Malverns this century.
Our Malvern Local Group will host this online talk, which will last for approximately 40-45 minutes with time for Q&As afterwards.
Please note: If you are booking this on a mobile device and cannot see the payment option, please scroll down within the booking window rather than the main page window.
Booking
Suggested donation
£2.50 per person watching