Worcestershire is lucky in having some fantastic rare floodplain meadows that sit in the foothills of the magnificent Malvern Hills and, through our Hardwick Green Meadows project we were able to focus on protecting, enhancing and engaging people about these wonderful places.
Floodplain meadows are home to some notable and rare species, such as great burnet flowers, and are also known for supporting large numbers of insects including bees, beetles and flies.  These amazing meadows exist because of the way the land has been managed for hundreds of years and the ground's ability to store floodwaters. These iconic sites now occupy less than 1,500 hectares in the UK; floodplain meadows are part of our heritage and are inspirational wildlife habitats. They support a diversity of plant species rarely seen elsewhere,
Hardwick Green Meadows form 20 hectares of wonderful habitat that were saved with thanks to the National Lottery Heritage Fund, Severn Waste Services and donations from trusts and individuals, all part of the meadows of the Malvern Chase area. This historic former royal hunting ground is home to lots of local interest including other nature reserves, common lands, woodland, farmlands, quaint villages, picturesque countryside and local pubs. All of these features made for a perfect cycle route, so we partnered with Sustrans to do just that.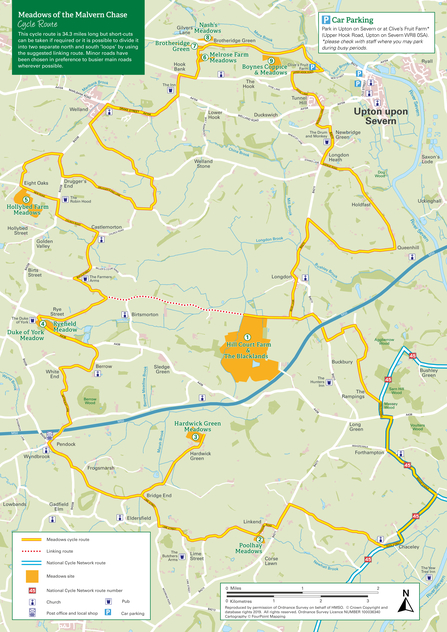 The cycle route begins at Clive's Fruit Farm where parking is permitted (and provides a good opportunity to fill up on water and snacks for the ride). From there you can head west or north along this circular route that encompasses some of our favourite but most delicate nature reserves.  Access to many of these precious places is restricted in order to allow us to restore and conserve these fragile habitats for wildlife. The largely flat scenic route includes some places to stop and rest.