Appeal update
Thanks to the amazing support of our members we have raised the match-funding necessary to apply to the National Lottery Heritage Fund for support for this amazing project.  We hope to receive good news in spring and, if so, will complete the purchase of the land at Dropping Well Farm by June 2021.  We have already taken over management of the site on an interim basis and have begun the long task of restoring the land to heathland.
We are still accepting donations for our Saving Worcestershire's Heathlands; any funds raised will enable the Trust to better manage the land in coming years.  You can find more information about the project below.  Thank you to everyone for your support.
Be a Heathland Hero
Donate now to help us buy this crucial piece of the jigsaw
We've lost an estimated 85% of lowland heathlands across the UK over the last 150 years; from 20,000 acres in the 18th century, Worcestershire has just 603 acres remaining or undergoing restoration.
Dropping Well Farm sits in the middle of our own The Devil's Spittleful and Blackstone Farm Fields nature reserves and Wyre Forest District Council's Rifle Range and Burlish Top nature reserves.  Saving this block of land would enable us to connect over 300 acres of wonderful heathland habitat (600 acres of mixed habitat altogether).
Our long-term vision is to restore what is currently farmland at Dropping Well and give wildlife a tremendous boost.  From pantaloon bees and hornet robberflies to common lizards and yellowhammers, this is a once in a generation opportunity to make a huge difference for our wildlife.  
Help us to achieve #30by30 - 30% of land managed for wildlife by 2030.
With support from the National Lottery Heritage Fund, we hope to deliver a five year project of engaging walks, talks and activities to help the local community understand more about the wildlife and this wonderful site. Could you spare a few minutes to complete our survey?
Wildlife needs you
With a generous donation of £100,000 from Severn Waste Services through the Landfill Communities Fund and a remarkable £50,000 donated by a member who wishes to remain anonymous, we are well on our way to helping to create the biggest block of heathland in Worcestershire.  our application to the National Lottery Heritage Fund has been submitted but any help you're able to give will help us to better manage the land in the future. 
Thank you!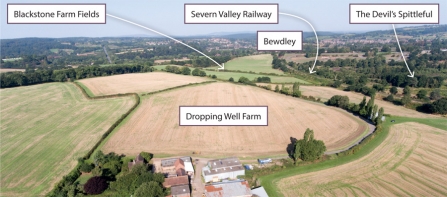 Helping heathland wildlife
Lowland heathland has become an international rarity; over the last 200 years we have lost more than 80% across England and 90% across Worcestershire. Dropping Well Farm sits amongst Worcestershire's last remaining fragments. It is currently privately managed as an arable farm, although it was heathland less than 60 years ago and thus has the potential to be restored back to heathland.
The nature reserves that surround Dropping Well Farm have been studied for many years and are renowned for their biological interest and importance for rare wildlife species. The purchase and restoration of the site will significantly extend and strengthen this habitat, thus allowing species to move around the landscape and increase in numbers. Some threatened species to be conserved include…
Reptiles

Common lizard by Tom Marshall

The area is regionally important for reptiles. common lizards are present on the surrounding sites and in the hedgerows. Slow-worms are present in the adjoining railway habitat. Adder were once common in the area but are now facing near extinction across the country.
Invertebrates

Hornet robberfly by Rosemary Winnall

The site is important for a wide range of invertebrates and neighbouring The Devil's Spittleful has been described as being among the best sites for rare bees and wasps in the UK. Records show Red Data Book listed wasps and mining bees, the nationally important hornet robberfly, pantaloon bee, black mining-bee and the minotaur beetle; plus 20 species of butterflies and more than 160 species of moth.
Plants

Harebell by Rosemary Winnall

The new site will benefit a wide range of heathland plants including harebell, common heather and bell heather, which are considered near threatened; prickly poppy and tower mustard, which are endangered.
Birds

Nightjar by David Tipling/2020VISION

Bird life is rich and includes records of priority species, such as nightjar, yellowhammer, skylark and woodlark. With the new site and increased habitat, we hope to see birds return and these numbers increase.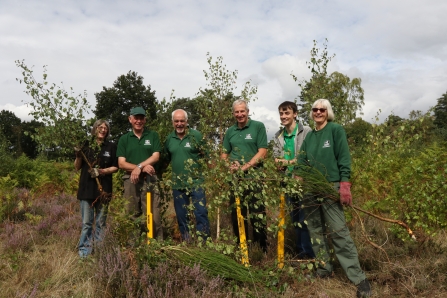 Once established as a nature reserve, we will create a nature trail to link the new site to the other nature reserves and will use interpretation boards, as well as a programme of walks, talks and events, to provide information about the heathland and to encourage people to look after it.
Volunteers are essential to the maintenance and care of our nature reserves and we will recruit a team of volunteers to look after the new site. Volunteers will receive training and will contribute to conservation management work on the site as well as to wildlife monitoring and surveying.
The future of our wildlife and wild spaces lies in the hands of today's young people. We will work with schools and youth clubs to provide hands on education and to involve young people in the care, protection and restoration of this valuable landscape.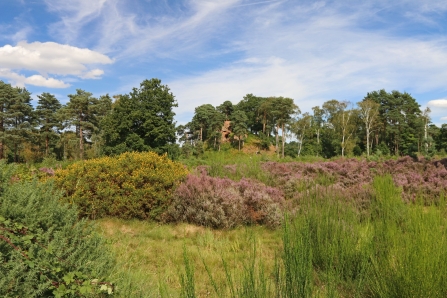 We have already invested in a feasibility study for heathland restoration at Dropping Well Farm, as part of our decision making process when considering the potential purchase. This detailed report considers our existing heathland restoration programme at Blackstone Farm Fields and The Devil's Spittleful nature reserves alongside the land at Dropping Well Farm. Findings from the report have been incorporated into a site Management Plan, providing clear guidance for work over the next 10 years, transforming the site from arable to grazing pasture and finally to heathland.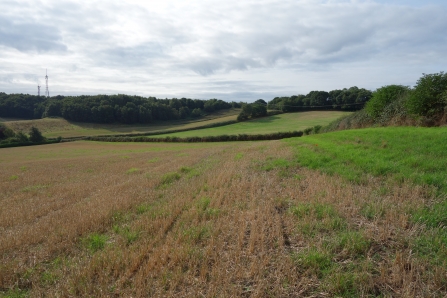 Dropping Well Farm has been purchased on our behalf by the Esmee Fairbairn Foundation through their Land Purchase  Fund, (a type of loan scheme that enables charities to acquire land by purchasing the land upfront and providing charities with a period of time to fundraise). We are in the process of raising funds to purchase the site back from them.  The cost of the site is £870,000. We have submitted an application to the National Lottery Heritage Fund for £500,000 and are delighted to have been successful in the first round.  The challenge for us now is to raise the necessary match funding to be able to secure this grant and the subsequent purchase of this wonderful site. 
Be a Heathland Hero
Help us to create Worcestershire's largest block of heathland