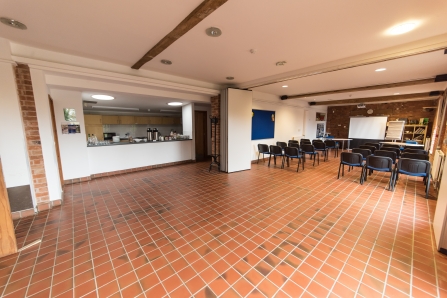 Our rooms
Lower Smite Farm has a range of rooms to suit every meeting and conference requirement.
Information about the individual rooms is detailed below.  All room layouts are flexible and all rooms have WiFi access as standard.  Digital projectors, laptops, flip charts, PA system and other equipment is available at no extra cost.  Refreshments and lunches can be provided.
If you require to book the whole centre, wish to make multiple bookings or only need a half-day booking please email our Meetings Organiser, Moira, or call her on 01905 754919 to discuss room discounts.
If you're looking to book our centre for a daytime family celebration or function please contact Moira on 01905 754919 for details of prices.
The Dairy
A light and airy room for up to 20 people in a boardroom layout.  This room is self-contained with its own kitchen and facilities.
The daily rate for business meetings is £125 + VAT
Floorspace: 8m x 4.8m
The Stable
This is a more spacious room with plenty of natural light based around a central courtyard (with outdoor seating).  The room can accommodate up to 25 people in a classroom layout.  It is self-contained with kitchen and facilities and is ideal for larger meetings, training days and family functions.
The daily rate for business meetings is £200 + VAT
Floorspace: 14.25m x 4.55m
The Barn
An impressive, restored barn which opens out onto the central courtyard.  Linked directly to The Stable, this is ideal venue for conferences and functions and can accommodate up to 60 people in a theatre style.  The Barn is booked with The Stable to provide access to kitchen and facilities.
The daily rate for business meetings is £350 + VAT
Floorspace: 12.7m x 5.25m
The Hayloft
This can be hired with the Stable and Barn and is ideal for a breakout room for up to 12 people. Access to kitchen and facilities.
The daily rate for business meetings is £125 + VAT
Floorspace: 12m x 4.95m