Booking your room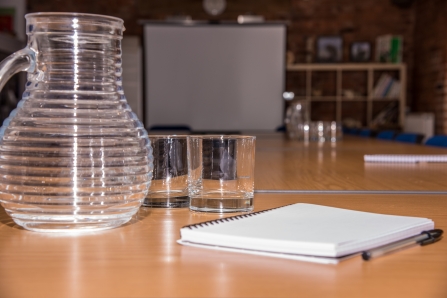 For all enquiries about booking a room please complete our booking form and email it to Moira Conn or call her on 01905 754919.
Booking

Once a provisional booking has been made it will be held for a maximum of two weeks pending completion of the booking form and payment of a non refundable deposit of 50% of the room hire or a Purchase Order Number.
Once a booking has been made, cancellation charges will apply (details available on request).
The balance of the booking charges are payable no later than 2 weeks after the event. VAT at the standard rate will be added to all our invoices.
The hirer shall estimate the number of persons for whom catering arrangements are to be made at the time of the booking and is required to give a firm figure at least three working days before the event. This figure is the minimum number for which you will be invoiced.
Insurance

The hirer shall be held responsible for insuring all equipment brought on to the premises and for any damage caused on Worcestershire Wildlife Trust's property.
Worcestershire Wildlife Trust will not accept any responsibility for any loss or damage to personal belongings during the use of the room hire.
Car parking

Lower Smite Farm has ample free parking space.
Worcestershire Wildlife Trust will not accept any responsibility for the loss or damage to vehicles whilst parked in the farm car park.
Other information

Worcestershire Wildlife Trust reserves the right to cancel a booking in exceptional circumstances without liability. In these circumstances, delegates will be offered an alternative date.
Where an alternative date cannot be provided, the hire costs will be refunded in full.
Lower Smite Farm has a strict no smoking policy in all rooms.  Designated areas are available outside.
Lower Smite Farm proved to be the perfect location for the Wychavon Intelligently Green Awards ceremony. There was plenty of space for people to mingle before and after the ceremony. The barn was spacious, light and comfortable and the audio-visual facilities were excellent. The staff were really helpful in the lead up to the event and on the day, nothing was too much trouble. The garden provided a fitting backdrop for the winners' photos. Everyone had a great evening.