2020 competition - judging has taken place
We are delighted to announce the winners and runners-up of this year's photo competition. Congratulations to our 12 winners - each of the winning 12 images below will feature in our 2021 calendar.
A big round of applause please for our overall winner, Richard Clifford, whose photo of a pearl-bordered fritillary resting on bracken (above) appears on the front cover of the calendar.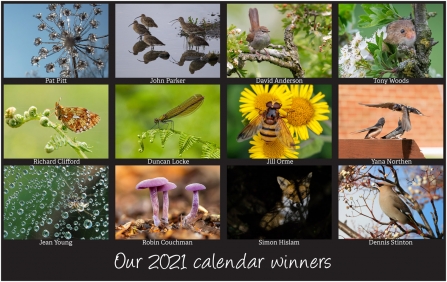 Runner's-up images will feature as smaller insets each month and, of course, all entries help us to promote Worcestershire's fantastic wildlife.
Special thanks go to our external judges, Jason Curtis and Pete Walkden, for helping to choose the 12 winners.
Many thanks to everyone who entered.  You can take a closer look at all the winning and runners-up images in the Flickr albums below...
Don't forget...
...the welfare of the subject is top priority. Don't stress a subject just for a photo; the wildlife is more important than the image.
...make sure you stay on paths or within designated areas.
2020 calendar winners
Thank you
Thank you to all the photographers who kindly donate their images to help us inspire people about the wonders of Worcestershire's wildlife. If you'd like to add your images to our library (credit is always given), please get in touch.