Orchids are starting to get their feet in the ground as part of a long-term meadow restoration project near Castlemorton.
Hollybed Farm Meadows were purchased by Worcestershire Wildlife Trust in 2013 and the local charity have been restoring the fields since then.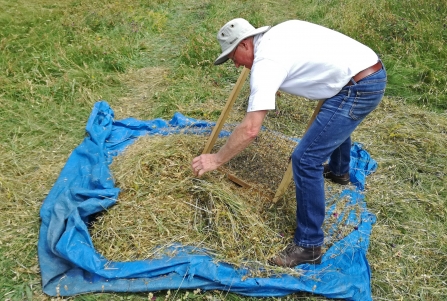 Far Starling Bank, one of the nature reserve's fields, is a Site of Special Scientific Interest and is full of wildflowers. Each year volunteers have taken some of the seed from this field and scattered it over the remaining fields.  Along with seed from other nearby meadows, this is allowing the rest of the site to gradually build up larger numbers and more varieties of plants, replicating what has been lost over the last 60 or 70 years.
From just one green-winged orchid on 2016 and 60 in 2018, there are now more than 200 appearing in four different fields.
David Molloy, Conservation Officer for the Trust, explained "Hollybed Farm Meadows is a special place with meadows, a wet woodland and orchard.  
"It's a very long-term game to restore something as precious as wildflower-rich meadows that have taken decades to develop. 
"Whilst it can take years for the variety and numbers of plants to return, orchids in particular can be very tricky to reintroduce as they rely on a mutual relationship with certain fungi in the soil.  So it's fantastic to see so many orchids get their feet into the ground and begin to spread."
Green-winged orchids are indicators of old meadows that haven't been treated with chemicals and either have never been ploughed or haven't been ploughed for more than a hundred years. 
England has lost approximately 97% of its wildflower meadows since the 1940s and Worcestershire has around 20% of those that remain.
There is a circular walk around the meadows, which are situated near Castlemorton Common.  Just a handful of the orchids can be seen from the paths but the walk does take in the beautiful Far Starling Bank and anyone who visits will see the restoration getting underway in many of the fields.
David added "The meadows and flowers are very sensitive so access is restricted to a designated path to allow restoration to continue without delicate flowers being trampled."
Hollybed Farm Meadows is Worcestershire's Coronation Meadow.  The Coronation Meadows initiative was set up by HRH The Prince of Wales in 2013 to attempt to restore meadows that had been lost since the coronation of Queen Elizabeth in 1953.