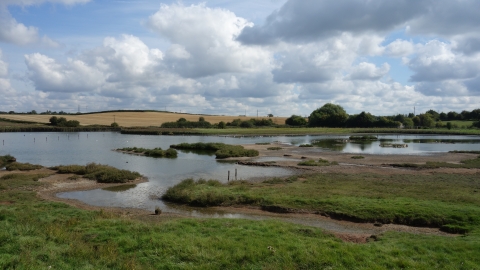 The Christopher Cadbury Wetland Reserve at Upton Warren
There will be disturbance on the reserve each Tuesday whilst our volunteer work party undertakes habitat management. Locations will change each week.
Keep up to date with the latest Upton Warren sightings from regular birders.
Please be respectful of others and follow our guidance. We are taking bookings for group visits.  Please check our coronavirus update page for more information.
Worcestershire's premier bird-watching reserve, Upton Warren attracts birds throughout the year.
Know before you go
Entry fee
£3 permit available on site or from the Trust offices at Lower Smite Farm in advance
Parking information
The Flashes - Apr-Sep 9am-8pm; Oct-Mar 9am-4pm (Gates locked at all other times, do not park elsewhere). The Moors car park is open at all times.
Bicycle parking
Cycling is not permitted on the nature reserve but you are welcome to push your bike to the hide providing that you don't block access.
Grazing animals
Cattle
Access
Wheelchair access to North Moors hide and to two hides at The Moors along stoned track via a padlocked barrier; please contact Trust for access info. Steps to boardwalk and hide at The Flashes.  Please use paths and hides provided; straying from these can disturb the birds. Boardwalk, bridges & paths can be muddy & slippery when wet.
When to visit
Opening times
The Moors is open dawn-dusk. The Flashes - Apr-Sep 9am-8pm; Oct-Mar 9am-4pm.
Best time to visit
All year round
About the reserve
With several hides across the reserve, birdwatchers old and new will want to return to Upton Warren to make the most of this fabulous habitat and to enjoy the variety and numbers of birds found here.
The pools at The Flashes owe their existence to past underground brine extraction, which has caused subsidence and flooding. These saline pools, the southern part of the reserve, receive brine from underground seepage and salt-tolerant or salt-dependent plants form a rare inland saltmarsh.  The northern Moors pools are freshwater lakes formed on previously agricultural land; the great expanse of water attracts a wide range of birds.
As well as the birdlife, summer is also great for insects; ruddy darter frequents the pools along with southern and brown hawker dragonflies.  Banded demoiselles and blue tailed damselflies skim the surface of the pools.
Why not download our Upton Warren leaflet to find out more before you go?
The Flashes
These pools are remarkable for the breeding and passage waders that can be spotted here. Little ringed plover, avocet, lapwing and redshank regularly breed here. Spring and autumn passages regularly bring green and common sandpiper, dunlin, greenshank and black-tailed godwit.  Scarcer species have included ruff, sanderling, turnstone, bar-tailed godwit, whimbrel, wood sandpiper and spotted redshank.  Even rarer waders have included Wilson's phalarope, black-winged stilt and Temminck's stint.
A black-headed gull roost often hosts Mediterranean gull and peregrine falcon is regularly spotted hunting here or perching on nearby radio masts.
The Moors
As well as attracting a range of wildfowl, The Moors pools are home to breeding common tern, black-headed gull, oystercatcher, lapwing and redshank. Reed and sedge warblers are heard singing from the cover of the reedbeds throughout summer and Cetti's warbler also breeds here.  Hobby can be spotted throughout summer whilst spring and autumn passages can bring marsh harrier and osprey.  Winter months make the water rail, common and jack snipe easier to see.
Feeding stations regularly attract reed bunting, bullfinch and greenfinch.  In winter it is often possible to catch occasional brambling along with siskin and redpoll here.
Christopher Cadbury
Much of the  land was generously purchased by Christopher Cadbury who also helped to pay for many developments and improvements.  The reserve now bears his name as a small token of our recognition and appreciated of his work.
Please note that visiting Wildlife Trust members must  carry their membership cards and non-members must obtain a permit (£3) from onsite volunteers, the Boatshack Cafe or in advance from Lower Smite Farm.  Any member without their membership card will be charged for a £3 permit.  
Bigger, better and more joined up
We believe that a landscape-scale approach to wildlife conservation is essential. Wildlife needs space to adapt and move to cope with the consequences of climate change. Practically, this means that we need our countryside to be bigger, better and more joined up to provide a coherent network of large areas linked by corridors that can provide benefits for people as well as for biodiversity.
Upton Warren buffers the Forest of Feckenham Living Landscape area and is an important link between the Droitwich Canal wetlands, the Birmingham and Worcester Canal, the river Salwarpe and the river Severn.  
Species
Habitat
Environmental designation
Site of Special Scientific Interest (SSSI)
Upton Warren leaflet - info & map