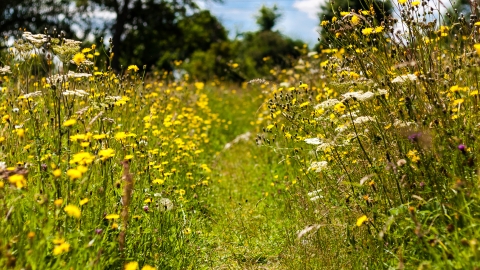 The seasonal path is now closed. Please access via & stick to the public footpath.
Please read our coronavirus update page for information on keeping yourself and our wildlife safe.
Thank you.
Designated a National Nature Reserve for the wealth of plants found in part of the unspoiled depths of Worcestershire's countryside.
Know before you go
Parking information
Very limited parking on roadside by main entrance gate, space for 1 or 2 cars
Grazing animals
Cattle
Walking trails
Additional mown paths are provided during flowering period March to July. Grass will be slippery underfoot when wet.
Access
There are stiles and a kissing gate to access the meadows.
When to visit
Opening times
Dawn to dusk. Access restricted to public footpaths.
Best time to visit
April to July
About the reserve
So great have been the changes in our countryside during the last 50 years that a field full of flowers, once considered commonplace, is now a rarity and warrants national recognition. 
Foster's Green and Eades Meadows were once Foster's Green Farm and have not been ploughed for at least 100 years nor have they ever been treated with chemical fertilisers, herbicides or other agricultural chemicals. Lying on heavy clay soils, their interest lies in the large number of plants that grow here – over 180 have been recorded - and the huge number of insects, spiders and other invertebrates that they support.  Eades Meadow is particularly famous for its green-winged orchids in spring and meadow saffron in autumn.  The colour of the meadow changes daily as different flowers come into flower throughout spring and summer.
Foster's Green Meadow is still farmed and Eades is grazed by cattle in late autumn and early winter before being left to grow hay.  The hay is cut late the following summer after the flowers have seeded.  Following a period of growth, the field is grazed and the cycle begins again.
Part of the land was once a small orchard and a few apple trees remain.  A number of large oak trees mark the positions of old field boundaries and young trees have been planted as future replacements.  The huge elms that once grew in the hedges were killed by elm disease and their demise opened up the field to the wind and sun.
Foster's Green Meadows lie within the larger living landscape project area of the Forest of Feckenham.
Please note that due to the fragility of the site, visitors should not stray from the public footpath that crosses part of the meadow.
Habitat
Environmental designation
National Nature Reserve (NNR)
Site of Special Scientific Interest (SSSI)
In 2015/2016, local photographer and member Andy Bartlett got in touch to ask if he could document a year in the life of Eades Meadow.  This stunning video is the result of his effort...