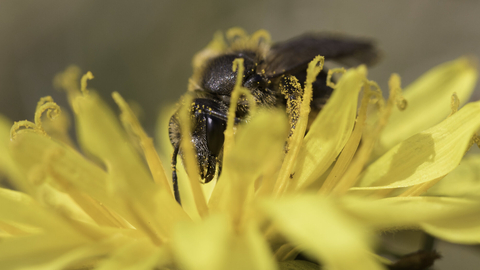 The hidden world of garden bees
Location:
Online,
In your home
Book
Join bee enthusiast and author Brigit Strawbridge for a delightfully buzzing evening.
Event details
Date
About the event
Planet Earth is home to more than 20,000 different species of bee; as diverse in size and appearance as they are in behaviour, life-cycles and habitat requirements. Around 280 of these bee species can be found in Britain & Ireland.
In this illustrated talk, Brigit explains some of the basic differences between honeybees, bumblebees and solitary bees, including their roles as pollinators and their myriad relationships with flowering plants. The talk also touches on bee decline and, most important, advises how we can all help by creating more pollinator-friendly gardens and habitats.
Brigit Strawbridge Howard is a wildlife gardener, naturalist, and advocate of bees. Based in North Dorset, she writes and campaigns to raise awareness of the importance and diversity of native wild bees and other pollinating insects. She is author of Dancing with Bees: A Journey Back to Nature.
Our Worcester Local Group will host the talk, which will last for approximately an hour with plenty of time for Q&As afterwards.
Ticket sales for this event will close 20 minutes before the event begins (6.40pm). 
Please note: We have been alerted to the fact that some people are unable to complete their booking. If this happens, please try again on a different device or browser - in most cases, this solves the problem. Alternatively, if you're using a mobile device, please scroll down within the booking area in order to access the rest of the booking form.
Booking
Suggested donation
£2.50 per person