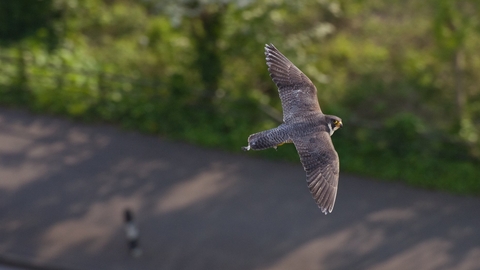 Urban Peregrines
Location:
Online,
In your home
Book
Join peregrine falcon expert Ed Drewitt to discover more about these fascinating birds.
Event details
Date
About the event
With peregrines found in most large towns and towns in the UK, Ed will explore the habits and behaviours of these urban converts. What makes an urban peregrine tick, why they are using our towns and cities and what we are finding out about them, including their unusual hunting behaviours. 
For the past 20 years Ed Drewitt has been studying the life of urban peregrines, finding out what they eat and where they go when they leave the nest. Along the way there have been many surprises both when they hunt and where they travel. Find out more about how the peregrine is adapted to life in the city. 
Ed is a freelance naturalist showing people wildlife (esp. in the Forest of Dean), teaching birdsong and travelling the world. He is author of Urban Peregrines and the recently published Raptor Prey Remains. 
Our Malvern Local Group will host this online talk, which will last for approximately 40-45 minutes with time for Q&As afterwards.
Ticket sales for this event will close 20 minutes before the event begins (6.40pm). 
Please note: We have been alerted to the fact that some people are unable to complete their booking. If this happens, please try again on a different device or browser - in most cases, this solves the problem. Alternatively, if you're using a mobile device, please scroll down within the booking area in order to access the rest of the booking form.
Booking
Suggested donation
£2.50 per person watching