Issy manages her first tree planting project...
Don't be afraid to go out on a limb, that's where the fruit is.
At the start of the year, Rob, my manager, gave Ruthie and me the honour of helping to run an orchard tree planting project. The responsibilities we were given included ordering the trees and any other supplies needed, arranging dates and not to forget liaising with Harry who looks after the beloved orchard at Tiddesley Wood.
Now you may wonder "Issy have you ever organised a project like this, or even planted a tree?" The answer to that question would be "no". However, what I can now say is that I can do both of those things confidently and happily after completing this project!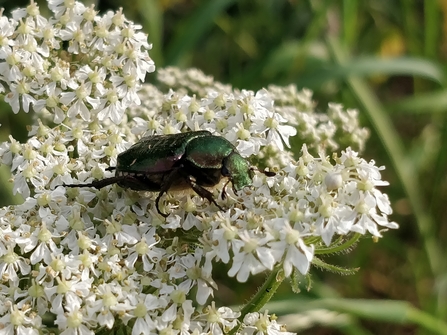 First thing we did was speak to Harry about which apple and pear varieties would be best to order. After being given a wonderful in-depth tour of the orchard by Harry, Ruthie and me realised there's more to an orchard than meets the eye. Tiddesley is home to the orchard-icon that is the noble chafer, a beautiful iridescent green beetle. Unfortunately this fascinating creature has become increasingly rare in the UK and is now a priority species for conservation. The larvae live in old, decaying fruit trees where they take up to three years to develop into adult beetles, which is why traditional orchards must be looked after.
Harry pointed out that Tiddesley's orchard has plenty of decaying trees for the noble chafers to live in but if we want to sustain this precious population, new trees must be planted for the future larvae to inhabit. Something to look for when you're next in a traditional orchard watching for a sign of these little green jewels is 'frass', which I can confirm resembles ground coffee. Frass is the droppings of noble chafer larvae and can be found by putting a long-handled spoon into holes of a decaying tree. (Disclaimer: I do not advise adding frass to your milky morning beverage)!
After getting to know the orchard, we ordered our supplies. These included weld mesh guards to protect the saplings and posts to support the trees as they grow. These arrived the day prior to planting to give us time to prepare the site.  On prep day we had fun cutting the mesh to the 1.5metre lengths we wanted. Weld mesh behaves similarly to Tigger (the tiger) - bouncy and unpredictable! But we got there in the end and had a nice collection of 13 mesh pieces. We also cut the green rubber tie attachments to length, which we use to hold the tree in place, connecting to the mesh and post. I cut these ties with Harry's extremely sharp secateurs and unfortunately Harry's beloved measuring tape was sacrificed in the process (I have now replaced this - sorry Harry). Who said that trainees could be trusted?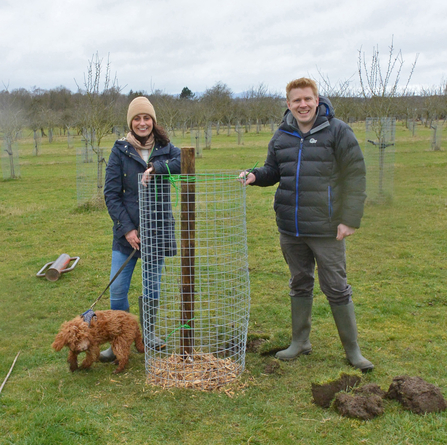 Once preparation day was over it was time for planting day! Jennine and Paul from Pershore-based OCM Business Systems Ltd, corporate members who funded the trees,  arrived to see a few of the trees get planted and to tell us more about why they were donating. Jake, Ruthie and myself got to work carefully putting the trees in and covering them with wood chip for protection and water filtration. Harry then joined in to put the mesh around the saplings with Ruthie and myself tying the guards to the posts while Jake bent the wire in place so everything was secure, the epitome of teamwork in my opinion. All of this was completed in very strong winds - I believe us trainees spent rather a lot of time chasing Harry's cap around the field if I remember correctly. Not much shelter out in that orchard!
I am pleased to say that the trees are finally in and well-watered and as I'm sat here writing this blog we are experiencing a hot sunny spell, so I imagine our 13 little fruit trees are soaking up those rays too! If you take anything from this blog, remember that an orchard's not just a place to grow trees! It's a place for noble chafers to thrive and a place for trainees to wind up Harry Green! It was an absolute pleasure running this project with Ruthie and Harry and I can't wait to visit those trees long into the future and admire them with pride.