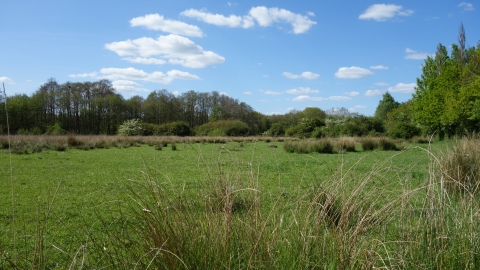 This important remnant marsh in the middle of Redditch consists of sedge peat, a rare habitat in the Midlands.
Know before you go
Parking information
Please park respectively on nearby roads
Grazing animals
Cattle
Access
Follow paths, boardwalk and circular trail waymarkers. Marshland very muddy and boggy all year round. All entrances have kissing gates; please close all gates as cattle grazing.
When to visit
Opening times
Dawn to dusk
Best time to visit
All year round
About the reserve
Ipsley Alders Marsh once sat in open countryside.  Spring water rises below much of the site, ensuring that parts are waterlogged all year round.  It is managed as a grazed marsh; small numbers of cattle are on site for much of the year to maintain structural variety within the grassland marsh. On your visit, keep a look out for some of the 170 species of plant that have been recorded here including hemp agrimony, common spotted orchid, fen bedstraw, marsh woundwort and water mint.  There are Worcestershire rarities on the reserve including marsh stitchwort and blunt-flowered rush.
Winter is a good time of year to catch sight of snipe that feed here as well as providing the opportunity to catch sight of all three woodpecker breeds in the woods along with tits.  The alders also attract flocks of siskin and redpoll throughout the winter months.  Breeding birds include reed bunting, grasshopper warbler and cuckoo in the summer months.  Dragonflies are also numerous in the summer.
Bigger, better and more joined up
We believe that a landscape-scale approach to wildlife conservation is essential. Practically, this means that we need our countryside to be bigger, better and more joined up to provide a coherent network of large areas linked by corridors that can provide benefits for people as well as for biodiversity.
Situated within the community of Winyates Green and Ipsley, this reserve offers great potential to build up strong links with our neighbouring communities, involving them in the management and monitoring of the reserve as well increasing the opportunity for wildlife-friendly management in gardens and on allotments.  If you'd like to help, please get in touch.
Habitat
Environmental designation
Site of Special Scientific Interest (SSSI)
Ipsley Alders Marsh welcome sign