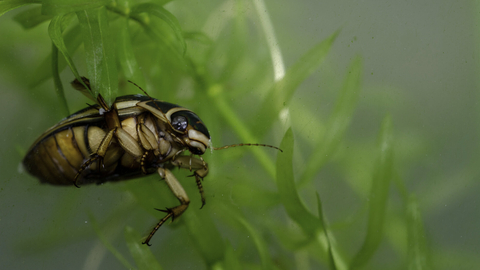 Pond Scum
Location:
Online,
In your home
Book
Head underwater and discover the fascinating world of ponds with Jack Perks.
Event details
Date
About the event
Take a closer view of British ponds, from dragonflies, frogs and birdlife, showing underwater views and dispelling some of the myths. Over 1 million ponds have been lost since the 1940s.
You may have seen Jack on one of the many well-known nature shows, including Springwatch, Countryfile, The One Show and The Great British Year, where he has revealed normally unseen footage of wildlife with his underwater photography.  
He has also written a couple of books for New Holland publishers one of which is a field guide to Pond & River Wildlife of Britain & Europe.
Our Worcester Local Group will host this online talk, which will last for approximately 40-45 minutes with time for Q&As afterwards.
Ticket sales for this event will close 20 minutes before the event begins (6.40pm). 
Please note: We have been alerted to the fact that some people are unable to complete their booking. If this happens, please try again on a different device or browser - in most cases, this solves the problem. Alternatively, if you're using a mobile device, please scroll down within the booking area in order to access the rest of the booking form.
Booking
Suggested donation
£2.50 per person