Visiting our nature reserves during lockdown
From Mon 21st June, the paths at The Moors at Upton Warren will be open seven days a week – please maintain social distancing at all times. The hides at The Moors will be closed. Visits to The Flashes need to be pre-booked by visiting our what's on pages.
Lower Smite Farm remains closed to visitors. Please see our Coronavirus update page for more information. There is limited parking at many of our nature reserves, including The Knapp and Papermill, so please limit visits and return at a less busy time if there is no parking available when you arrive.  
If you visit our reserves, please maintain social distancing and be considerate to our staff, volunteers, other visitors and the wildlife.  You can do this by avoiding narrower paths that have the potential to make social distancing difficult without damaging path-side habitat and wildlife.
Please watch our short video to find out how you can help protect wildlife...
If you are visiting our nature reserves and are not a member, please consider joining us in order to help us to maintain these wonderful places for wildlife.
Nature reserves are refuges for wildlife
Our nature reserves are special places for wildlife. Please keep to paths and pay attention to signage. Dogs are welcome on some nature reserves but please keep them on a lead at all times and take away any mess. Please follow these simple steps to ensure the safety of our wildlife:
Keep dogs on leads. Even the friendliest of dogs can appear threatening and may cause a bird to leave a nest altogether. It's not just ground-nesting birds that are at risk – many species nest (summer) and roost (winter) in vegetation close to the ground alongside paths. 
Stick to paths. Whether it's a public right of way, a bridleway or a permissive path, please stick to these and don't make your own paths. Only take horses or cycles on designated bridleways.
Stay alert. If a bird is calling 'at you', you're too close to the nest.  If it's carrying food, let it feed its young. Don't pause and keep on walking.
Report bad or suspicious behaviour. If you see anything suspicious – wildlife crime, fly-tipping, fires. motorbikes or more, please report this using 101 (non urgent) or 999 (urgent)
We own and manage more than 75 amazing places for wildlife. You are welcome to visit most of these to immerse yourself in the beauty of nature and the wonders of Worcestershire's wildlife. Almost 30, however, are true wildlife havens (not listed on our website) and can only be visited for research purposes with special permission from the Trust - please get in touch if you would like to know more about accessing any of these delicate and special places. 
To help us look after all these fabulous places and to discover more about the wildlife that lives there, why not become a member.
Your group is welcome to visit without a guide but to ensure you have the best visit that isn't compromised by work that's taking place, education activities or other group visits, please contact Rob (01905 754919) to book your visit. Please also consider making a donation to the Trust to help with the ongoing costs of managing our nature reserves.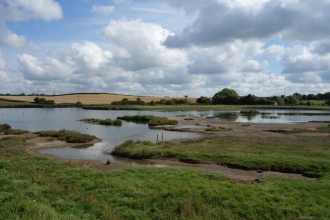 Worcestershire's premier bird-watching reserve, Upton Warren attracts birds throughout the year.